Package for Staple Free Stapler
Round
Made By Humans, a distributor of contemporary giftware, home and office stationery and promotional items wanted to refresh their product lines.

One of their products is a "Staple free Stapler". Having carried and distributed the product for a few years, and after some new product colours and other enhancements, the team decided that they wanted to repackage their Stapler.

The previous package was a closed PVC box. It was crucial that this time, the stapler was featured in the design with minimal packaging made from recycled card clear PET. An additional challenge was to ensure that the package was easy and quick to open, remove and close, so as to allow for custom prodcuct printing.
I researched their current packaging and materials and proposed solutions. To staple a long story short; Made By Humans loved the new packaging. Their customers liked it so much that there were orders for the staplers in the new packages even before the older stock was finished; and the new packaging came with all the required functionality and eco features that they had specified.
We went on to developing new POP displays for the staplers. I based the display on the shape and proportions of the packaging, originally proposing a modular system that had printing on the bottom of the displays for use as a backboard behind adjacent ones. However, to reduce space we settled on a single sheet as a backboard.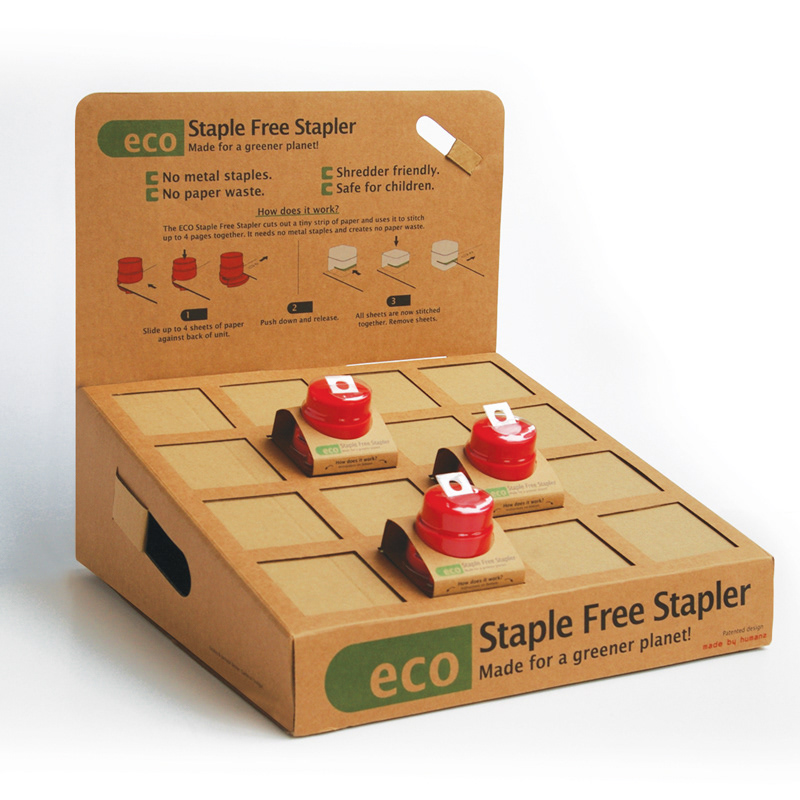 The display features cutout handles on the side, that are in the shape of the stapler's stitch that it makes in paper. The plinth like display is quite roomy inside, allowing retailers to store inventory inside.
The POP displays are flat pack and can be assembled inside stores.