Thomas Haas Chocolate Sparkle Cookies
What started as a label replacement project, gained momentum and we soon found ourselves responsible for delivering two packages for the "TheWorld's Best Cookie" (Vancouver Sun, Feb 2003).


Initially,Thomas Haas' freshly baked Chocolate Sparkle Cookies were presented in acellophane wrapping with a sticky label attached. The refrigerated home bake cookies were in stock paper with a sticky label attached.


I knew thatthe Chocolate Sparkle Cookies as with most of Thomas' creations were innovativeand unique. The challenge was to communicate the "Sparkle" within, whilesimultaneously preserving the carefully crafted Thomas Haas brand.

The package for the home bake set of six Chocolate SparkleCookies came first. Wrapped in Thomas' signature ribbon branding and logo, it includes angled sides. Earlier in the design process all of the sides wereangled, naturally conforming to the spacer tray within. However, the option for additional front display and stacking was needed, hence the flat top andbottom.

Thomas' signature dark brown was chosen for the flood colourand silver foil applied. The flood brown was knocked out to reveal the ribbon,thereby eliminating the need for a third colour. This proved cost effective, reduced ink usage and worked nicely as a contrast to his brightly coloured chocolate bar and confectionery line. The most important feature was themessage "Sparkle". Splashes of "sparkly" silver on each of the round windowsallude to the Chocolate Sparkle Cookie within.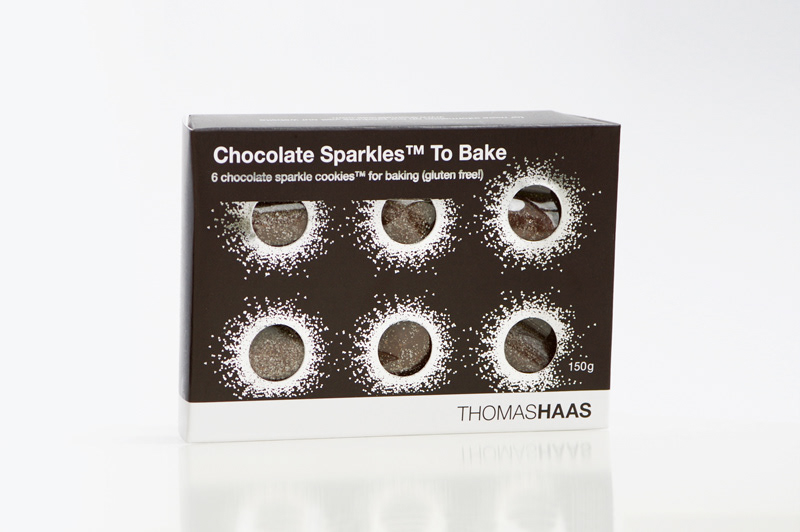 As for the freshly baked Chocolate Sparkle Cookies, the package evolved from a mix of fabrication challenges with earlier concepts andvital feedback from Thomas Haas staff. Eventually, Thomas suggested a tray style package. We agreed that it was a good idea.

Despite the differences between the tray and the home bakebox, it was important that the two packages interrelated. That provided good reason for including the angled sides on the tray. It was very important thetray fold flat for shipping; efficiently open and assemble for the delicate process of hand filling and anchor the cookies even when lifted by thecellophane. The folding tabs ensure a finished top edge and the anchoring ofthe cookies…they also prevent one from eating all of the cookies at once :)